…with the Crough Family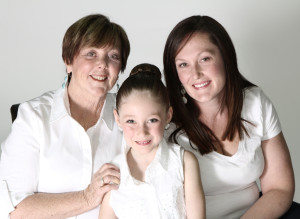 My family was fortunate enough to join the Dancers Burlington family when my sister, Kate, was quite young.  She began in recreational jazz and began her first year of a very successful Company career the following year.   There is a significant age difference between Kate and I – she is nine years younger than me but we have always been very close.  Before Kate joined Dancers she was a fairly introverted child.  It was rare for Kate to voice her opinions or initiate social contact with other children or with adults outside of her comfort zone.  Like a lot of children, Kate was most comfortable in the company of her family.  She had yet to find her inner voice and confidence.
Kate began her first year of Company at Dancers Burlington in what is often referred to as the Baby Company – the youngest Company dancers.  Kate was seven.  The mild, introverted child was so comfortable and so happy being in the dance studio.  She took jazz, tap and ballet and worked very hard.  She was pushed out of her comfort zone and came alive both at the studio and while competing on stage.
Kate received not only valuable dance instruction in performance and technique, but she made life-long friends as well.  Not only was Kate becoming a confident and skilled dancer, but she was also becoming assertive and self-assured.  Her academic drive increased, her circle of friends became expansive with her newfound life skills and most importantly, Kate became Kate on the outside to the rest of the world.  The same Kate her family already knew.
Watching my sister grow up dancing in Company, I had the opportunity to watch her become a confident, self-disciplined and self-assured woman who took not only dance skills away from dancing, but more importantly, she honed valuable life skills that have contributed to her success as an adult.  My timid, quiet, homebody Kate has now become a certified school teacher, lives in the Arctic and teaches a full schedule of academics in addition to teaching dance to children who would otherwise never enjoy the gift of creative movement.  She has experienced so much of life that many of us can only begin to dream of.  There is no doubt that Kate learned the self-discipline and love of life that brought her to this point in her adult life during her time at Dancers Burlington.
Knowing how well my sister Kate fared at Dancers Burlington, I knew that my daughter, Ciara, would not attend any other dance studio.  We live in Milton, not Burlington, and there are many dance studios around that Ciara could easily attend.  However, there is no doubt that Ciara is receiving the absolute best care and instruction from the best teachers at Dancers Burlington.  There was never a question of Ciara attending dance elsewhere.
Ciara began her Dancers Burlington career at age 2.5 in Baby Ballet.  Before dancing Ciara tried sports but with no success.  She was the kid sitting against the wall crying because she was not comfortable in that environment and she genuinely did not enjoy sports.  Her dad and I decided to try dance – she seemed to enjoy doing that at home.  It was a hit.  Ciara LOVED Baby Ballet.  She had tears at the beginning but she was taken care of in such a way that she became excited and happy to go back every week.  Ciara loved to dance.
It was also around this time that Ciara started preschool.  She was a much different child in preschool – she was timid, quiet and developed anxious habits.  She was eventually diagnosed with a debilitating social anxiety disorder that essentially prohibits her from speaking.  However, she still loved to dance.
Ciara took Junior Jazz when she was five years old and really seemed to connect with that movement and the studio environment.  Dean and I were watching our daughter come out of her shell.  She learned tools to get her through anxious moments when her body wanted to shut down, but she wanted to dance.  So she did.  Ciara went on last  year to perform in the year-end recital in front of a packed theatre.  And she was hooked from that point forward!  My timid daughter who suffers from anxiety had the performance bug and she wanted more.
Ciara joined Company E at the age of 5 and in SK.  Still not speaking at school, I happily took my excited daughter to her dance classes.  Once she stepped into the studio environment she transformed into the Ciara we all knew and loved – the happy child who gets to express herself creatively with body movement, the goofy kid who made people laugh with her "hip hop" moves and most importantly, the self-assured child who had made many friends.
During Ciara's first couple years of Company she has already learned many life skills.  Not only has she come away with a strong work ethic, an attention to detail and a love of dance, but she is genuinely comfortable in her environment with her dance teachers.
Dancers Burlington staff have noted Ciara's special needs, and not only have they risen to the challenge, they have adapted to her needs and they continue to follow her lead.  That is not an easy thing to do.  This is not to say they are light on her – not at all.  Ciara is not treated any differently than other children in terms of expectations of work and attendance.
Ciara dances in jazz, tap, lyrical and ballet.  She LOVES all four of them and works on her technique every day.  She wants to do more.  I don't think anyone was more nervous than her dad and I for her first show and then her first competition.  We genuinely weren't sure if she would even go onstage.  Taking Ciara to her first competition was a very exciting time for her.  She couldn't wait to get her makeup on, her hair done and her costume on.
Watching Ciara take the stage at her first competition was literally heart-stopping.  She was elated!  Her joy and her confidence was obvious on her face.  She was self-assured, she was having fun and she was amazing!!  There are no words to describe how amazing it is to see the results of hard work – on Ciara's part but also her dance teachers' part.  Ciara's dance teachers found a way to pull something out of Ciara that was hidden very deep within.  If I could bottle it I would.  The Dancers Burlington teachers and staff have literally changed our daughter's life.  There is no way we can sufficiently express our gratitude and we will be eternally grateful.
Everyone in Ciara's life has noticed a difference since Ciara started Company.  She continues to grow on a daily basis and it is truly a pleasure, as her parents, to watch our daughter grow into the person we know she is inside.
Ciara has already told me on numerous occasions that she wants to dance more, that she is never going to stop and that she is going to dance forever.  Dean and I are so lucky to be able to watch her come into her own – this has happened because of her Company experience at Dancers Burlington.
We look forward to many more years of watching our daughter become who she is and to continue to grow as a person on a daily basis, to continue to improve as a dancer and to become the confident, silly, goofy and SASSY girl she is.  We're not sure if the world is ready for the true Ciara but brace yourselves, she is on her way!
– Eryne and Dean